Tactile Braille Map Video
Many map boards offered to the general public are overly complicated, inaccurate, or inaccessible to disabled people. Direct Access are proud to offer our solution.
Check out the launch video for our Tactile Map Boards and learn what went into creating this innovative wayfinder that is allowing facilities to offer accessible and up to date information to disabled people.
Designed by a team of disabled people
Manufactured using recyclable materials
Serviced regularly with updated audio-visual content
Consultation throughout the whole process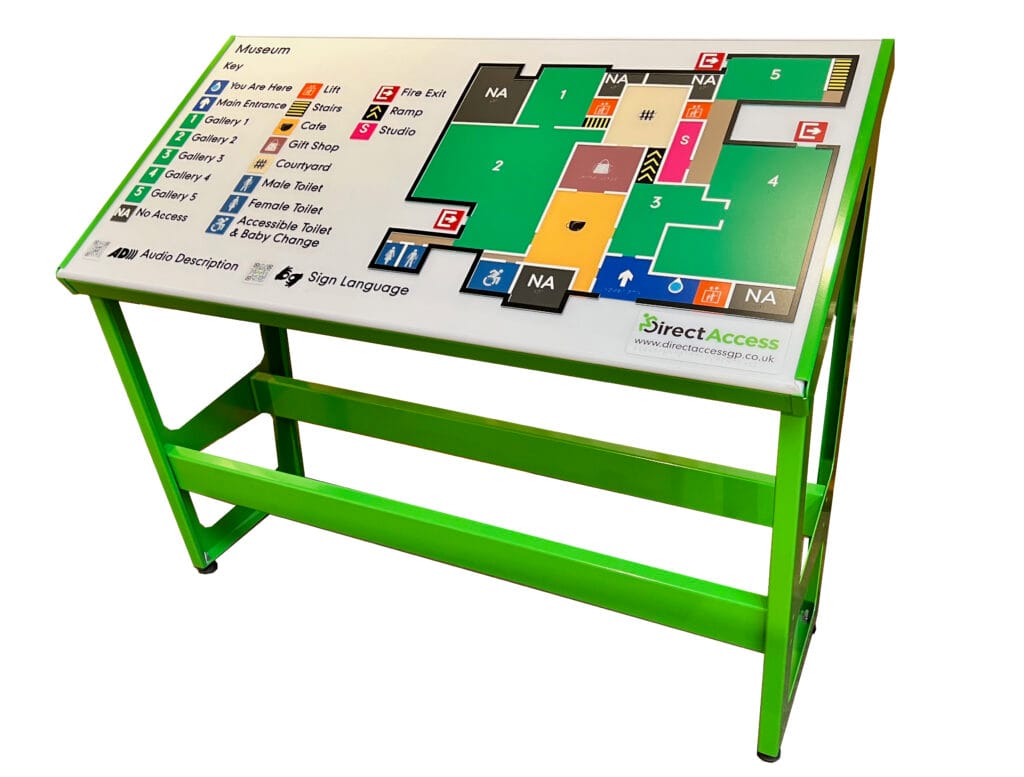 The Tactile Braille Map Board is a static map that utilises Audio Described and BSL QR codes to allow its users access to digital, portable way finding information on their mobile phone devices.
The physical map board contains information about the environment in which it is situated, as well as a key to identify the various characters on it. All elements on the map are made from Braille, allowing the map to be interpreted both via sight and touch. The accompanying Audio Description QR code generates an audio file that also allows the user to interpret the map's information via hearing.
Unmatched Inclusive Design
Coloured, textural information is displayed in detail using a high contrast palette to further enhance apparency, while bespoke BSL content tailored specifically for each individual map, eliminates the need for an in-person interpreter by providing descriptive, easily updated navigation information.
The map board can also be used by non-disabled people as any other static map.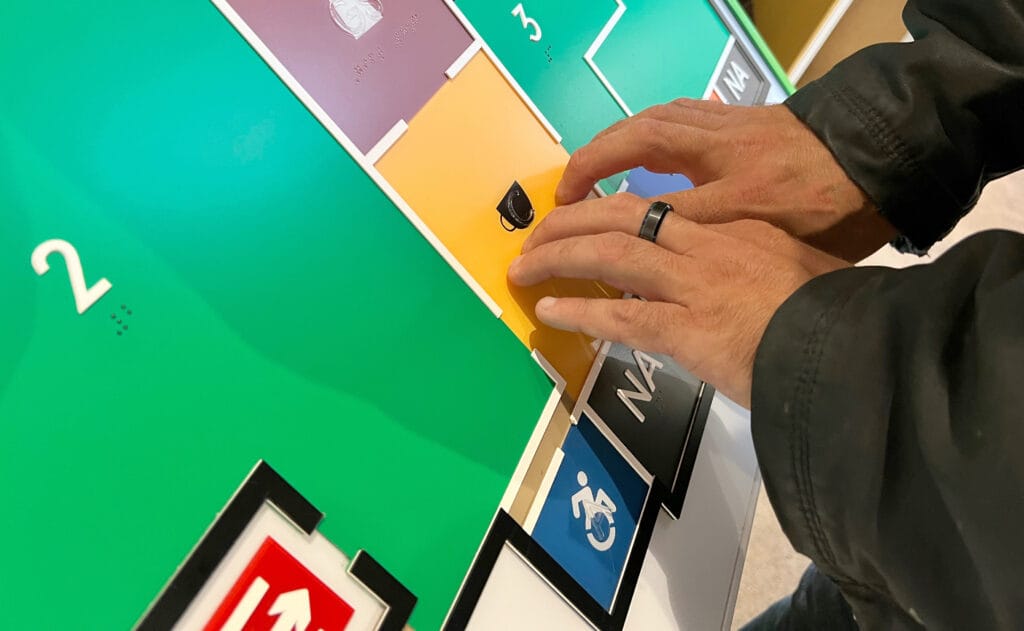 Details thought through: The Tactile Braille Map Board features detailed Braille touchpads for each character of the map and key, with pictorial symbols for children, complimented by a tasteful yet attractive colour contrast, and an instantly recognisable layout.
Quality you can trust: All our map boards are built by a UK manufacturer.
Colour customisable: Available in seven different colours to suit your branding (subject to RNIB guidelines).
Sustainable: The steel frame of the map can be recycled.
Regular Updates: Unlike static maps that require manual installation of fresh information, Tactile Braille Map Boards operate with dynamic content updates as and when the owner requires them. This means that any new information the owner provides to Direct Access will become accessible within the QR audio-visual content by users within days in a BSL or audio-described format.

United Kingdom
Suite GB,
Pepper House,
Market Street,
Nantwich,
Cheshire,
CW5 5DQ.
Ireland
77 Camden Street Lower,
Dublin,
D02 XE80.