In our video for the Direct Access Evacuation Chair range, our team explains the inspiration behind its development, as well as what makes it the first chair specifically designed with a disabled evacuee in mind.
Designed & serviced by disabled people
Evacuation planning survey
Industry leading product made to the highest quality
Unmatched Inclusive Design
The Direct Access Evacuation Chair is lightweight and intuitive in its operation, allowing it to provide safe, dignified egress for mobility-impaired users who could find stairs a safety barrier.
Designed and built in Germany, the Direct Access Evacuation Chair is engineered for safety and reliability. In the event of an emergency, users must be able to rely on the performance of their life safety products.
The high visibility colour scheme and intuitive decals are easily identifiable in an emergency and have a protective fire-retardant dust cover and a compact storage design.
Direct Access offers an Evacuation Chair range built with our values in mind. Accessibility being the heart of what we do, our Evacuation Chairs are, by far, the most inclusive on the market.
Evacuation Chair Training
Evacuation equipment is most effective when used by someone familiar and trained in how to use it properly.
Direct Access' fully inclusive training course enables operators or responders to gain a complete understanding of Evacuation Chair use and how to ensure the safety and comfort of the evacuee. The physical use of the chair is only one aspect of a safe and dignified evacuation of a person with mobility issues.
Is Training Required?
The Direct Access Training Course has been designed to ensure operators and businesses are able to meet their legal and socially responsible obligations.
We typically advise Evacuation Chair Training for our standard Chair as well as the Multi-Comfort variants, but we strongly recommend training for use of the motorised Evacuation Chair, seen in our video here.
(Footage captured at Expo 2020 Dubai).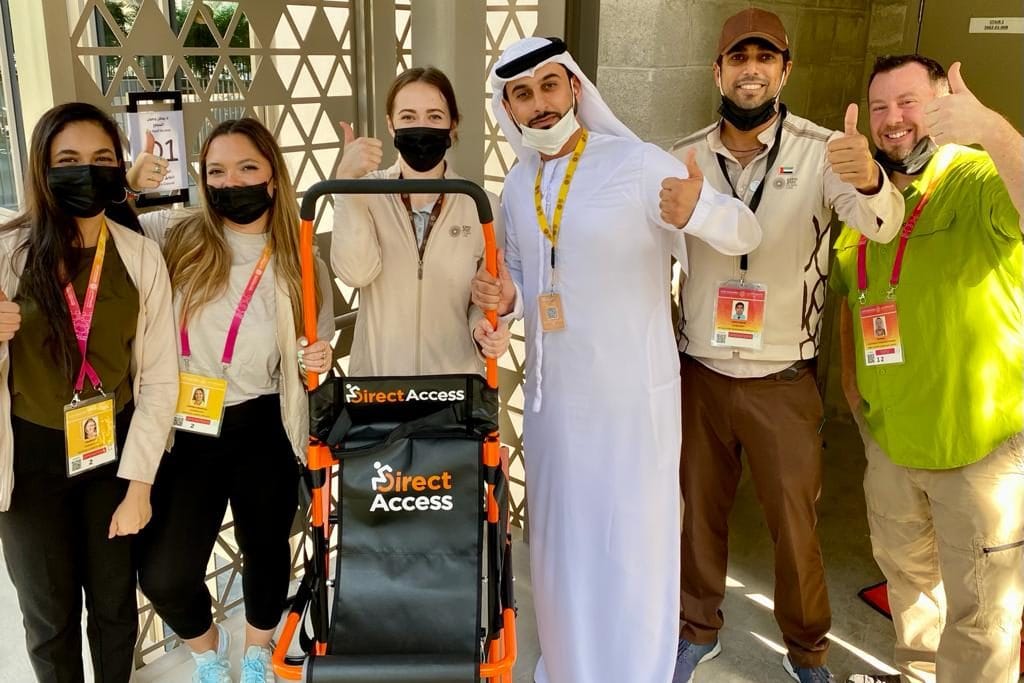 The Direct Access Evacuation site survey ensures the correct emergency evacuation solution is specified. Taking into account the building layout, existing emergency procedure, and where appropriate the mobility needs of the intended users of the Direct Access Chairs, the detailed post-survey report will highlight the areas of attention and suggest solutions. The team at Direct Access pride ourselves on providing a solution not just selling a product.
Product Service & Maintenance
Direct Access is a fully inclusive company and has an 86% disabled workforce. As part of our commitments to the community we serve, Direct Access employs a network of disabled field-based service engineers.
Ensuring your Direct Access chair is always ready for use is vital in any robust evacuation strategy. Direct Access suggests that all evacuation equipment is regularly serviced in lines with the PUWER Regulations 1998 (Provision and Use of Works Equipment Regulations). Not only does this ensure the product is ready to use, it extends the life span of your investment and promotes confidence in any user that might be called upon to use the chair.
Direct Access will ensure an annual plan is implemented together with full tracking of works and certification of work completed.
Comply with the Equality Act
The Equality Act 2010 defines disabled people as a 'protected characteristic'. The Equality Act prohibits discrimination in relation to something arising from a person's disability and creates a duty to make reasonable adjustments for disabled people. In relation to services and public functions, the duty to make reasonable adjustments is owed to disabled people generally and is anticipatory.
While it could be deemed unreasonable to install a fire-protected lift or second stairwell, it is likely to be seen as reasonable to ensure escape routes comply with Building Regulations Part M requirements and to provide a disabled person with an assisted escape device.
It is worth noting that the Equality and Human Rights Commission (EHRC) have advised disabled people that assisted escape devices may be viewed as a reasonable adjustment in a compensation claim.

United Kingdom
Suite GB,
Pepper House,
Market Street,
Nantwich,
Cheshire,
CW5 5DQ.
Ireland
77 Camden Street Lower,
Dublin,
D02 XE80.