The Direct Access Evacuation chair allows the safe and timely evacuation of people with mobility impairment (either permanent or temporary) during an emergency situation. Designed and built in Germany to the highest standard, the Direct Access Evacuation chair can always be relied upon.
Evacuation Chair Training
Direct Access fully inclusive training course enables operators or responders to gain a complete understanding of the Evacuation Chair use and how to ensure the safety and comfort of the evacuee. The physical use of the chair is only one aspect of a safe and dignified evacuation of a person with mobility issues. The Direct Access Training course has been designed to ensure the operators and business are able to meet their legal and socially responsible obligations.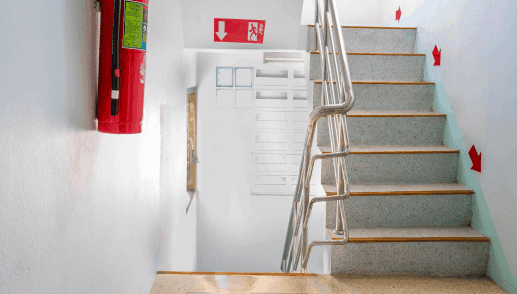 Evacuation Site Survey
The Direct Access Evacuation site survey ensures the correct emergency evacuation solution is specified. Taking into account the building layout, existing emergency procedure and where appropriate the mobility needs of the intended users of the Direct Access Chair the detailed post survey report will highlight the areas of attention and suggest solutions. Direct Access pride themselves on providing a solution not just selling a product.
Product Service
& Maintenance
Direct Access are a fully inclusive company and have 80% disabled work force. As part of our commitments to the community we serve, Direct Access employs a network of field based service engineers who are all persons with disability.
Ensuring your Direct Access chair is always ready for use is vital in any robust evacuation strategy. Direct Access suggest that all evacuation equipment is regularly serviced in line with the NFPA 101, 2015, Section 7.2.12.2.3 and ANSI/RESNA ED-1 Emergency Stair Travel Services. Not only does this ensure the product is ready to use, it extends the life span of your investment and promotes confidence in any user that might be called upon to use the chair.
Direct Access will ensure an annual plan is implemented together with full tracking of works and certification of work completed.
Address
Direct Access Consultancy LLC
68 Harrison Avenue
6th Floor
Boston
MA 02111
T: (617) 518-5313
F: (617) 518-5314
4600 140th Avenue North
Suite 180
Clearwater
FL 33762
T: (727) 478-2652
F: (727) 538-4237
How Can We Help You Today?
A member of our award-winning accessibility team will be in contact.
If you would like to communicate in a specific way, please let us know.